Leaf Spring
Landhi Engineering Works (Pvt.) Ltd. is the Largest Manufacturer of Leaf Spring Assemblies, Leaf Spring Leaves for all type of Vehicles. We are the First ISO 9001:2015 & 14001:2015 certified company in the field of manufacturing of Leaf Spring Assemblies in Pakistan. We are the regular Vendor for OEM ( Original Equipment Manufacturer) and supplying Leaf Spring Assemblies to Toyota, Isuzu, Mitsubishi, Nissan, Hino, Daewoo, Hyundai, FAW for their Buses, Dumpers, Truck, Tractor.
Our manufacturing Plants are well equipped with the World's most advanced technologies. The Leaf Spring Plant equipped with M/s. Spring Manufacturing Technologies, (Formerly Fairbank Brearley, England). We have the production capabilities with Automatic Eye Rolling, Controlled Heat Treatment Furnaces, Continuous Tempering (by Efco, England), Shot Peening, Accurate Load Deflection Arrangements, Taper Rolling Facilities etc.
We are using Raw Material from world renowned Raw Material (Alloy Steel Flat Bars) Source.
LEW The Versatile:
→ LEW Springs, have a consistently high level of resilience.
→ LEW Springs are proof tested to 90% of yield stress to carry rated loads (Scragging).
→ LEW Springs have higher heat treated strength levels to improve fatigue life.
Inhouse Capabilities
Inhouse Capabilities
→ DIES
→ JIGS
→ Tooling Development, R & D.
→ CAD/ CAM Facilities
→ HYDRAULIC / PNEUMATIC Facilities
→ Forging
→ Dummy Forging
→ Drilling
→ Complete heat treatment
→ Hardness Testing
→ Scragging
Salient Features
Salient Features
→ Largest number of machines from M/s Spring Manufacturing Technologies, UK in Pakistan.
→ Accurate checking of spring constant.
→ High endurance life of final products.
→ Well equipped with latest machines for:
→ Automatic eye rolling
→ Continuous tempering
→ Stress peening
→ Taper rolling
→ Scragging
→ Endurance testing
→ Has high yield strength, which in turn gives more fatigue life than any other springs.
→ Flexible production from 50 x 6 mm to 120 x 20 mm cross sections flat bars.
Arrangement of metallurgical examination with world renowned Testing Laboratory for:
Arrangement of metallurgical examination with world renowned Testing Laboratory for:
→
Metallography
→
Spectrophotometery
→
Atomic absorption
→
De-carburization depth.
→
Chemical & physical analysis.
→
Universal testing
→
Metrology
Assemblies:
Assemblies:
→
Load deflection analysis for Loading and unloading position to study its HYSTERESIS curve and spring constant.
→
Controlled decarburization depth owing to increased fatigue life.
→
Stress peening of leaf spring for induction of compressive stresses for better load bearing capability & endurance life of Product.
→
Statistical process central is followed in letter & sprit.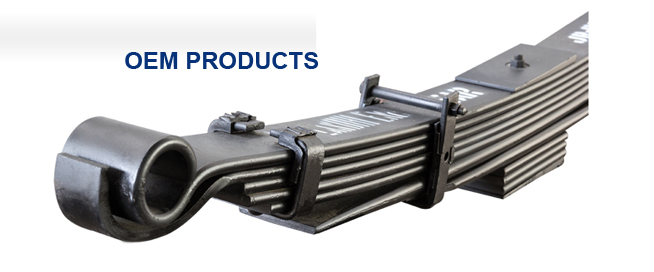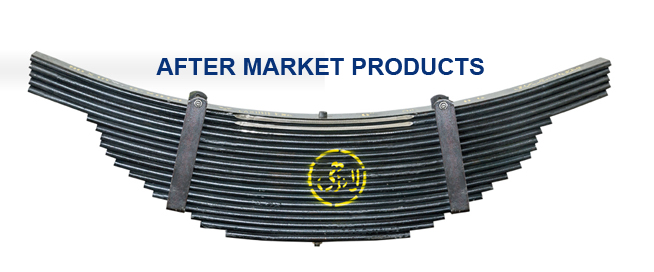 Manufacturing Process
Main Eye Rolling:
Main Eye Rolling:
→
We have automatic Eye Rolling Machine
→
Scarfing & Rolling both operations complete in one heat under Controlled Temperature
Hardening Furnace:
Hardening Furnace:
→
Fully Temperature Controlled Batch Type Furnaces From SMT.
→
Metallurgical Transformation from Austenitic to Martensitic Micro Structure is taken place.
Continuous Tempering Furnace:
Continuous Tempering Furnace:
→
Latest Continuous Tempering Furnace, whose temperature is super check by Temperature Over Rider.
→
Conveyor speed depends upon Metallurgical requirement of transformation from Martensite to Tempered Martensite. Final Product 99% Tempered Martensite structure.
Hardness Tester:
Hardness Tester:
→
Brinell Hardness Tester to check Hardness of Leaves.
Shot Peening Machine:
Shot Peening Machine:
→
It is used to increase Fatigue life of spring.
→
Shots apply on leaf on Tension Side at high velocity of impact to induce compressive stress.
Load Testing Machine:
Load Testing Machine:
→
To check Spring Constant & load behavior of spring.
Leaf Spring Processing